Calendar
---

Papercuts & Tapestries: A Mother-Daughter Collaboration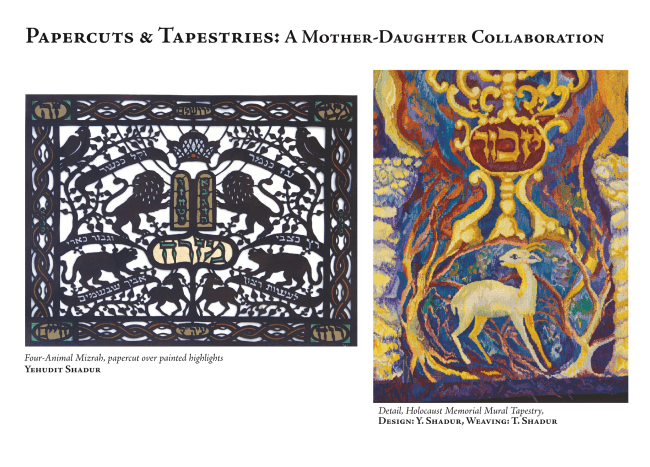 Yehudit Shadur and Tamar Shadur
Jody S. Sataloff Art and History Pavilion
Yehudit Shadur (1928-2011) was a professional artist whose work includes drawings, paintings, printmaking, and Jewish decorative arts. She had gained wide recognition as the foremost exponent in the revival of the centuries-old, nearly forgotten Jewish folk tradition of papercutting. Her vigorous compositions – a synthesis of time-honored Jewish ritual themes and symbols, and of contemporary perceptions – are rendered in a universally appealing artistic language. Her work is represented in major museums and private collections of Judaica in Israel, North America, and Europe. Together with her husband Joseph Shadur, Yehudit Shadur published two scholarly books that are important additions to the literature of Jewish art after three decades of researching, studying, and documenting the folk-art of Jewish papercutting.
Jewish Papercuts: A History and Guide, 1994, J. L. Magnes Museum (winner of the annual National Jewish Book Council Award for the outstanding book in the visual arts).
Traditional Jewish Papercuts – An Inner World of Art and Symbol, 2002, University Press of New England)
Tamar Shadur was initially trained at the Jerusalem Tapestry Workshop in Israel using the Aubusson technique where she wove fine mural size tapestries designed by well-known artists, Jean Lurçat among them. In the 1980s and 90s Tamar collaborated with her mother, Yehudit Shadur to produce several tapestries with ornate symbolic imagery and Hebrew text that distinguish Y. Shadur's exquisite papercuts. The Holocaust Memorial Tapestry Project is the final and largest work to emerge from this collaboration. Tamar uses metal pipe looms to weave her smaller tapestries. She has taught tapestry weaving and papercut workshops and given related lectures in various communities. Her work has been exhibited widely in New England, the Southwest, the Midwest, and in Israel.
Images: (Left): Four-Animal Mizrah, papercut over painted highlights, Yehudit Shadur; (Right): Detail, Holocaust Memorial Mural Tapestry, Design: Y. Shadur, Weaving: T. Shadur