Calendar
---

The Pumpkin Patch
November 17, 2021

-

January 3, 2022
A Traditional Buddhist Tale Illustrated by June Atkin
Retold by Sybil Taylor– Heian International Publisher
Spiegel Gallery
With one hundred Prismacolor Pencils making thousands of calligraphic lines, June Atkin illustrates the story of "The Wise Old Man" who teaches his quarreling pumpkins to be still. In the accord of shared silence, they realize that "We are all connected in the great… big… beautiful pumpkin patch." "Pumpkins" grew from a union of friendship and roots.
Children of Jewish Psychoanalyst Fathers, June Atkin – illustrator, and Sybil Taylor – writer, both chose Buddhism as their modality of healing. Childhood friends, Sybil and June re-enter their "Land of Play" to create a book introducing children to meditation.
June, a graduate of The Yale School of Art, has taught book illustration and computer graphics at several colleges. She has exhibited drawings, etchings and paintings, nationally. The Horn Book Inc., a seminal publication on children's books, included June in illustrators of the decade: Illustators of Childrens Books 1957-1966. She is an exhibiting member of The Society of Illustrators Museum in New York City. Currently, June Atkin Studio is located on a pier in Portland, Maine.
---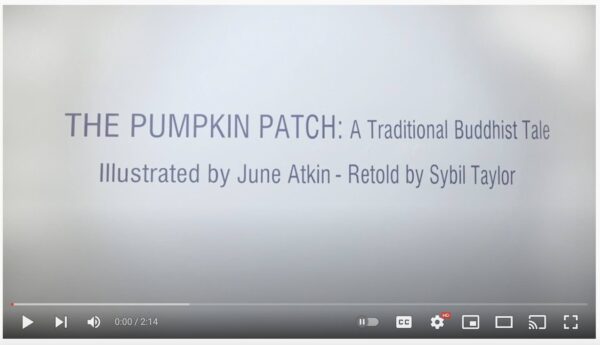 Please enjoy this reading of The Pumpkin Patch: A Traditional Buddhist Tale, Illustrated by June Atkin and Retold by Sybil Taylor.
Narration done by our very own Nancy Davidson.