2018 Hall of Fame Press Release
2018 Hall of Fame Induction Videos
2018 Hall of Fame Program Book
---
Joel & Linda Abromson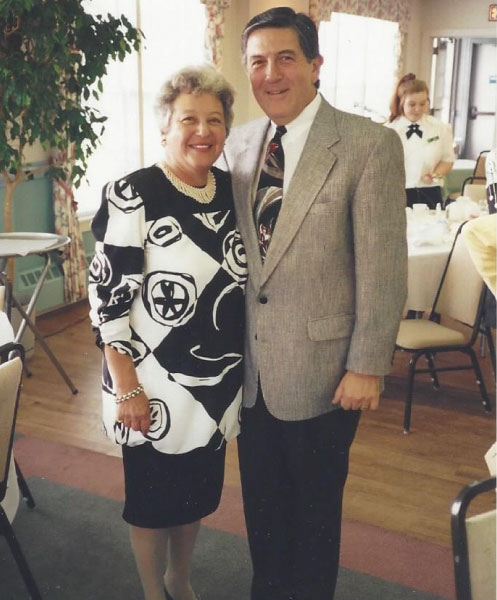 Linda and Joel Abromson were married in 1959 and were together pretty much non-stop until Joel's untimely death in 2002. They had three children, Lori, Leslie and Eric. While Linda and Joel had many similar interests and endeavors as a team, they also had their own specific areas of focus in regard to community service and Tikkun Olam.
Joel Abromson (1938-2002) was a Republican State Senator representing Falmouth, Long Island and part of Portland (District 27). He sponsored legislation to prevent discrimination on the basis of sexual orientation. When he died, the Maine Lesbian Gay Political Alliance called Abromson a "champion and a true friend".
Joel found energy and inspiration in his connection to Jewish life and was very active in leadership roles including as President of the Jewish Federation of Southern Maine; Chairman of Combined Jewish Appeal, Portland, Maine; National Chairman of the Young Leadership Cabinet, United Jewish Appeal. Outside the Jewish community, he also served as Trustee and Corporator of Maine Medical Center; Trustee and President of Spurwink School, Corporator and President of Boys and Girls Club Greater Portland; and President of the Bowdoin College Alumni Council. He was a successful businessman and always supported community fundraising efforts. Joel and Linda's friends seeded the Joel and Linda Abromson Award, an award given by the JCA of Southern Maine to fund projects that afford adult applicants the opportunity to explore Jewish life in a unique and creative way.
Linda Elowitch Abromson (1939-2017) started her professional career as a middle school math teacher and then spent the next several years raising their three children.
In 1974, Linda began what would become an illustrious political career, serving on the Portland School Committee for six years (two as Chairman) and 12 years on the Portland City Council, including a term as Mayor in 1982-83. After stepping down from elected office, Linda served for nine years on the Maine Human Rights Commission, a position she was passionate about.
In 1973, Linda and Joel participated in the first mission of American Jews to Poland to witness first-hand the remnants of the atrocities committed by the Nazis in Europe. That trip changed their lives, and Linda became a passionate speaker to adults and school children all over the country about the Holocaust, always reminding her audiences that we must "Never Forget."
Linda was an ardent fundraiser for the Jewish Federation and served on the Boards of the National Council of Jewish Women, Temple Beth El, United Way, the Portland Public Library, and the Maine Medical Center.
In recognition of the tremendous positive impact Joel and Linda have had on the Greater Portland community, in 2003 the 33,000-square-foot "Joel and Linda Abromson Center" was constructed on the campus of USM, including the 520-seat Hannaford Lecture Hall. The State of Maine is lucky to have had the Abromsons' friendship and example.
---
The Adelman Family
Hiram and Katherine, Milton and Gloria, Yale and Mary, and Elizabet and Jack Mazer
Hiram and Katherine Adelman
Milton and Gloria Adelman
Yale and Mary Adelman
Jack and Elizabeth (Adelman) Mazer
The Adelman family has contributed to civic and Jewish life in Aroostook County for three generations. Hiram, an immigrant from the Ukraine, opened a dry goods store in Mars Hill in 1903. In 1908, he married Katherine Goldsmith from Old Town. They had five children: Gertrude, Elizabeth, Yale, Neil and Milton. Their store and farm flourished and became a family enterprise, with Yale returning home from the University of Alabama to run the farms, Elizabeth and her husband Jack coming back from New York to manage the store, and Milton returning home after the navy and college to assist with the farm.
During the 1930s, Hiram helped initiate a committee in order to establish an organized Jewish community in Aroostook County and neighboring New Brunswick, Canada. In 1948, Hiram and Katie donated a Torah and presented it to the B'nai B'rith that met over the H.B. Green store in Presque Isle.
When Hiram passed away in 1951, his legacy garnered the support of the northern Maine Jewish community, particularly in helping to establish a synagogue. In October 1953 the newly built Aroostook Hebrew Community Center in Presque Isle was dedicated.
Upon his death, his children and their spouses continued his legacies. Yale, Jack and Milton were active in Rotary, the Masons and B'nai B'rith. Yale was a leader of the local mental health association, the founder of the Aroostook Health Center, a Vice President of the Camp Lown Association and a University of Maine Presque Isle trustee. Milton was a board member and then Chair of the Aroostook Medical Center in Presque Isle.
Mary and Elizabeth served as Officers of the Aroostook Hebrew Community Center. Gloria, an active and supportive member of the synagogue, served as the first director of nurses at Fort Fairfield Hospital and then the administrator of The Aroostook Health Center nursing home. Mary, Elizabeth and Gloria all served on various committees of the school board and also focused on local organizations that assisted those in need.
In Mars Hill today is the Hiram Adelman Memorial Fire station, plaques at the town's pool and activity center indicating Adelman support, land donated to the town by the Adelman family for a small park, the Gloria Adelman wing of the Aroostook Health Center, and high school scholarships awarded in memory of Yale and Mary Adelman.
The work and lives of the Adelman family reflect the pioneer spirit and dedication to the community through which Jewish men and women became the anchors of life in rural Maine.
---
Dorthy & Harold Alfond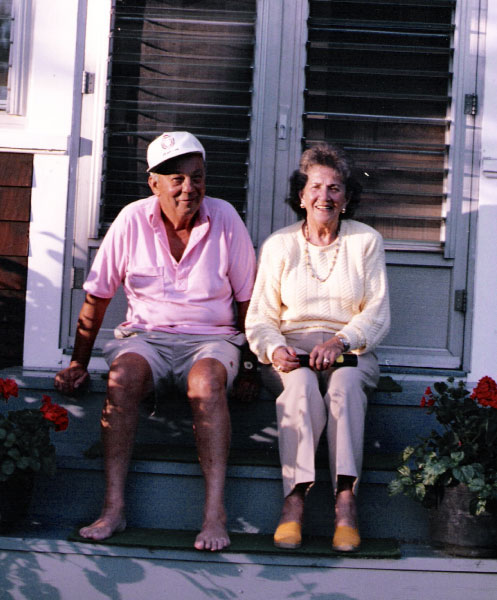 Harold Alfond was born in Swampscot, Massachusetts in 1914. He credited much of his life success to lessons learned as an outstanding high school athlete. He went to work after high school at a shoe manufacturing business in Kennebunk, Me.
In 1940 he and his father purchased an abandoned factory in Norridgewock and launched a shoe company. Harold sold the company during World War II but stayed on as president for 25 years.
In 1958 Harold started the Dexter Shoe Company in Dexter, Maine. He was the recipient of the Ted Williams Distinguished American Award and the national Alexis de Tocqueville Society Award from United Way.
Dorothy Bibby Alfond was born in 1916 in Waterville where her father started Levine's Store for Men and Boys. She married Harold in 1943. Bibby became a pillar of the community, serving on many boards for institutions that benefitted from her wise counsel and financial generosity.
Harold and Bibby were unstinting philanthropists in Maine, making large donations for athletics, health care, and education. Over 600 students have received Alfond scholarships since 1950.
Buildings which bear the Alfond name include the athletic center and senior residential complex at Colby College; the sports stadium at the UME; the recreation center, middle school, and family cottages at Good Will-Hinckley School; the baseball diamond at Husson College; the athletic center at Thomas College; the campus of the Maine Children's Home for Little Wanderers; the student center and artificial athletic turf field at Maine Maritime Academy; the athletic center at Kents Hill School; and the youth recreation center and municipal pool in Waterville. Additional major grants were given to the Maine Holocaust Human Rights Center and Holocaust Resource Center, and the Two Ten International Foundation which supports displaced shoe industry employees.
---
The Bernstein Family
Louis and Selma, Israel and Rebecca, and Sumner and Rosalyne
Louis Bernstein
Rebecca and Israel Bernstein
Sumner and Rosalyne Bernstein
Louis, a graduate of Bowdoin College and Peabody Law School, served five years as judge in district court, five years in superior court, and one year on the Maine Supreme Court. Louis served as corporator of the Portland Savings Bank. Bowdoin College bestowed an honorary Doctor of Law Degree on him in 1973.
He had a love of Judaism that inspired him to serve as secretary for United Hebrew Charities of Maine which oversaw the Hebrew Free Loan Society that gave interest free loans to the poor to start businesses or pay for medicine and food. He was a charter member of Jewish War Veterans, and prior to World War II he helped create the Jewish Federation for Displaced Persons in Europe and was one of the first to lead a bond drive for Israel. In 1937 Louis was the moving force in creating the Jewish Community Center, and became its first president.
Louis served on the Executive Committee of Social Agencies and was the first Jew named general chairman of the Portland Community Chest in 1952. He was elected to the Portland School Board and the City Council. He also headed the Civilian Defense Program and conducted classes for the American Red Cross. Selma and Louis started a scholarship fund at Bowdoin College that is active until this day.
Israel and Rebecca Bernstein
Israel was the first Portland Jew to graduate from Harvard undergraduate and Harvard Law School. He became a prime mover in the development of new civil rules adopted by Maine's judiciary system.Israel was also the driving force behind the founding of Casco Bank and Trust Company, of which he became a director.
He had an appreciation of camping and helped young boys benefit from a summer camp experience. He was also a big supporter of Boy Scouts, receiving the cherished Silver Beaver award for Distinguished Service to Boyhood.
Israel was a great volunteer in the Maine Jewish community, founding and serving as president of the Portland Jewish Federation, chairing the United Jewish Appeal Campaign for six years, and founding and serving as first president of the Jewish Historical Society of the Maine Jewish Council.
His wife, Rebecca Thurman Bernstein was born in Boston. One of 10 women in a class of 113, she received her LL.B from Boston University Law School in 1917, graduating magna cum laude, and received her LL.M., also from Boston University, in 1918. She was a member of the Massachusetts and Maine bars.
In 1968, Rebecca was awarded the Eleanor Roosevelt Humanities Award by the Israel Bond organization. She was cited in the November 19, 1968, Portland (Maine) Press Herald for "her outstanding contributions over many years to the human values of the people of Portland." Concern for the human condition was the focus of Bernstein's long and productive life.
She was admired and respected by the greater community as well as the Jewish community. She belonged to the National Council of Jewish Women and served as president of the Portland and New England Sections and also on the national board. She served as vice president of the Jewish Federation, and as a life director of Portland's Jewish Community Center.
Health and social issues that affected all citizens were her prime concern. She served as a director of the Community Chest, the precursor of the United Fund. She was a life board member of Child and Family Services and a member of the women's board of Portland's largest hospital, Maine Medical Center.
Sumner and Rosalyne Bernstein
Sumner followed in his father's footsteps by graduating from Harvard undergrad which he entered at age 16, and Harvard Law. He volunteered greatly in the Maine Jewish community, helping establish a cemetery for Conservative Jews with non-Jewish spouses. He helped his father break the bar against Jews in the Rotary Club and joined Brotherhood Lodge because Jews were not admitted to the Masons. He presented anti-bigotry materials to teachers in public schools. He helped Rabbi Sky march in Selma for civil rights by selling Israel Development Bonds.
Sumner won election to the Portland City Council and the Board of Directors of the Portland Savings Bank. He raised funds for the Community Chest (now the United Fund), the YMCA, the Republican Party, and served as director of the Boy Scouts. In addition, he became chairman of the Maine Board of Bar Examiners.
Sumner served on the national board of the American Israel Public Affairs Committee that lobbied the US government on behalf of Israel.
Roz graduated from Radcliffe College where she was an economics major and participated in Zionist activities. Ultimately she attended and graduated from the University of Maine School of Law.
Rox became the first woman to serve on Bowdoin College's Board of Overseers and did so for over twenty years. During this time she helped eliminate fraternities at Bowdoin.
Roz served as president of the National Council of Jewish Women, was a founder of the Head Start program in Portland, a member of the University of Southern Maine Board of Visitors, a member of the Maine Health Care Finance Commission, a trustee of the Maine Medial Center, and a member of the American-Israeli Public Affairs Committee, to name just a few of her volunteer positions. She also played an instrumental role in the construction of Reiche School in Portland.
About 38 years after coming to Portland, she graduated from the University of Maine School of Law in 1986.
Roz still resides in Portland and will be in attendance at the Induction ceremony along with numerous Bernstein family members.
---
Judge Morton A. Brody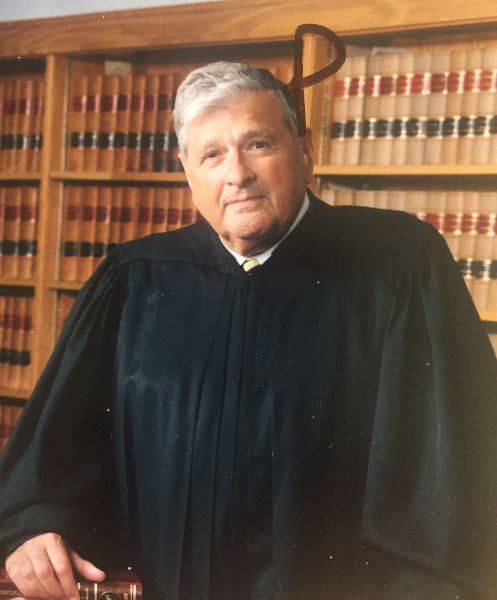 Morton Aaron Brody was born in Auburn, Maine and graduated from Edward Little
High School, Bates College, and the University of Chicago Law School. He began his legal career in Washington, D.C. and returned to Maine in 1961. In 1980, Governor Joseph Brennan appointed him as a Justice of the Maine Superior Court; he thereafter served as Chief Justice of the Maine Superior Court from 1985 to 1990. In 1991, Governor John McKernan appointed Morton Brody to be an Associate Justice on the Maine Supreme Judicial Court. President George H.W. Bush nominated Morton Brody to serve on the United States District Court for the District of Maine; he served with distinction until his untimely death on March 25, 2000.
Along with his wife and life partner Judy, Judge Brody was committed to his Judaism and his beloved State of Maine. He was an incredibly dedicated father to his three children Ronald, Elizabeth and John and would have enjoyed more time with his nine grandchildren.
He served on the Board of Directors of the Beth Israel Congregation in Waterville and on the Boards of Trustees and Overseers for Bates College. He served the City of Waterville as City Solicitor and was Waterville's Distinguished Citizen of the Year in 1981. He was a Member and President of the Waterville Area Boys and Girls Club, Member of the Board of Trustees of Mid-Maine Medical Center, Member of the Board of Directors at the Bank of Maine.
Judge Brody was appointed by Chief Justice Rehnquist to the First Circuit Gender, Race and Ethnic Bias Task Force. He was Chairman of the Civil Justice Advisory Committee and Advisory Rule Subcommittee and was a Member of the Federal Bench/Bar Liaison Committee. He was an active member of the Judicial Council of the First Circuit Committee on Criminal Law99 and of the First Circuit Judicial Council.
Colby College, where Judge Brody was an Adjunct Professor, annually presents The Judge Morton A. Brody Distinguished Judicial Service Award to a United States federal or state judge who embodies the qualities of integrity, compassion, humanity, and judicial craftsmanship. Judge Brody's commitment to excellence and integrity commanded the loyalty and respect of his associates, and he developed many warm relationships with colleagues, neighbors, and associates throughout his career.
Judge Brody's wife Judy and their three children will be here with us today to accept his Award.
---
Sam L. Cohen

Sam L. Cohen (1915-2003) was most often described by those who knew him as a mench. He grew up during the depression in a close-knit Jewish community in Biddeford, where lifelong friendships were formed with the Oshers, Nathansons, and many other families. As part of a thriving, loving family, when Sam's father passed away, Sam took on the role of provider to the family and his six siblings. With charisma and business acumen he made a great success of the family business along with his brother Bernard – York Bottling Co. Sam continued his success in the commercial real estate development business in Maine and investment in the founding of Golden West Savings and Loan.
Described as loving practical jokes and possessing a keen interest in politics and the law, friends and family also characterized Sam as being a thoughtful observer with strong opinions. Echoing these sentiments, former Senator George Mitchell remarked of Sam, "He was a good friend and a wise counselor who gave frank advice – he would give you the truth with the bark off, as they say. And he had a great sense of humor, so you got good advice and great jokes at the same time."
Sam was instrumental in maintaining the well being of Congregation Etz Chaim in Biddeford and was a fixture there behind the scenes, making sure everything was taken care of during holidays and Sabbaths as well as doing Bar Mitzvah tutoring when needed. As president of the congregation he was instrumental in keeping it going and in its rebirth.
Sam lived Tzedakah, gave willingly and before being asked. "If he got up in the morning and went to bed that night and felt he didn't help someone, he didn't sleep" explained Lester Cohen, his brother. Every year at Christmastime he would consult with Catholic priests and other ministers in the area as to who might need Thanksgiving dinners or Christmas dinners. Sam established the Swimming Pool at the Biddeford YMCA and Physical Therapy Center at the Cedars in honor of his parents Julius and Celia Cohen and contributed to Gary House in honor of his brother Bernard. Sam was dedicated to helping children with cancer and founded the Sammy Fund at the Maine Children's Cancer Center. His generosity was felt throughout the state.
Sam's legacy continues with The Sam L. Cohen Foundation, a philanthropic foundation supporting non- profit organizations established by him. The Foundation strives to ensure that all people have the opportunity to develop their potential and provide healthy, productive futures for themselves, their families, and their communities. The Foundation concentrates its efforts in southern Maine and supports a wide variety of organizations that: provide access to educational opportunities, promote culture and the arts, contribute to civic improvement and community well being, increase access to health care, or preserve Jewish traditions, culture, and community. Since Sam's passing, the Foundation has awarded over $23,410,358 to 449 nonprofit organizations.
---
Albert Brenner Glickman & Judith Glickman Lauder
Albert Brenner Glickman was born in Portland in 1933. His family relocated to California where he pioneered the concept of the community shopping center. He was a great visionary. He was also an advisor to presidents, senators and governors. His philanthropy is apparent in the Glickman Family Center for Child and Adolescent Psychiatry as well as Spurwink School, UCLA, University of Maine System, UNE, the Portland Symphony, the Portland Museum of Art, and Cedars Sinai Hospital, to name just a few. Al was a leader at the Michael J. Fox Foundation where he focused his energies and resources in the pursuit of finding a cure for Parkinson's,knowing the benefit was for future generations.
Judith Glickman Lauder was born in California. She is a Fellow of the Royal Photographic Society of Great Britain and is a member of both the Getty Museum Photographic Council and the Photographic Visiting Committee of the Metropolitan Museum of Art. Her work is represented in over 300 public and private collections including the J. Paul Getty Museum, the Whitney Museum of American Art, the Metropolitan Museum of Art, and the United States Holocaust Museum.
Judy spent years delving into the actual sites of the Holocaust. In the 1990s she was invited to Denmark to locate and photograph Danish World War II rescuers and survivors.
Judy serves on the Board of the Maine Jewish Museum and the Portland Museum of Art. Her philanthropy has most generously extended, among many other places, to the Maine Jewish Museum and to the Portland Museum of Art where she and her husband, Leonard Lauder, gave a donation, representing the museum's largest matching gift ever. Judy's latest book, Beyond the Shadows, has just been published.
---
Gerda Schild Hass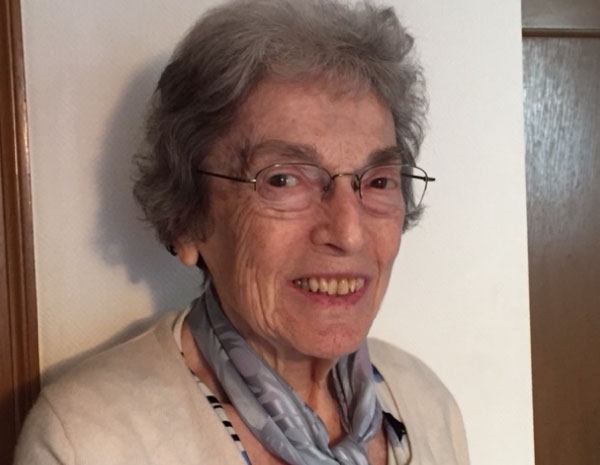 Gerda Schild Haas is a survivor of the Theresienstadt concentration camp and founder of the Holocaust and Human Rights Center of Maine. She is author of "These I Do Remember; Fragments of the Holocaust", and the children's book "Tracking the Holocaust." Her organizational and creative papers reside in the Edmund S. Muskie Archives at Bates College. She and her husband Dr. Rudolph Haas, who passed away in 2006, have four children, eleven grandchildren and four great-grandchildren. Her youngest son David is here to accept the award on her behalf.
Gerda was born in 1922 into a religious family in the small town of Ansbach, Germany. Her father was a kosher butcher and her extended family including sister and grandmother lived above the store. Following Kristallnacht, November 9, 1938, the family was forced to sell their building and move to Munich. Gerda went on to study nursing at the Jewish Hospital in Berlin prior to deportation at age 17. After liberation to Switzerland, she wrote to the International Red Cross and found her father in the United States, the only other family member to survive. Gerda immigrated to New York in 1946, became a US citizen, married Rudolph, and settled in Lewiston.
In 1969, Gerda enrolled at Bates College and graduated two years later summa cum laude. She then studied for, and received a Masters in Library Science from the University of Maine, Orono in 1974. Gerda served as a catalog librarian at Bates College from 1972 to 1984. During this time, she worked on and published her first book which chronicles the lives of nine victims of the Shoah, including herself.
In the late 1970s, Governor James B. Longley appointed Gerda to the State of Maine Board of Education. In 1982, Gerda received a grant to organize a conference and a state-wide outreach program focused on the Holocaust. In 1985 she became the founding director of the Holocaust and Human Rights Center of Maine, whose mission is to promote universal respect for human rights through exhibits, education and events. "Using the lessons of the Holocaust and other events past and present, we encourage individuals and communities to reflect and act upon their moral responsibilities to confront prejudice, intolerance and discrimination."
---
Judith & Irving Isaacson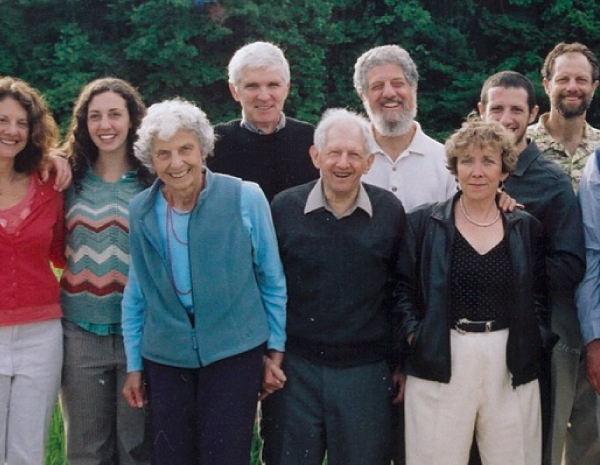 In destroyed Leipzig, Irving Isaacson met Jutka Magyar, a survivor of the Auschwitz concentration camp and the slave labor camp in Hessich-Lichtenau. They were married in the bombed-out Nuremberg City Hall on Dec. 24, 1945. They were married for 70 years and had three children. Judith Isaacson predeceased him in November 2015. Irving passed away earlier this year at the age of 102.
Jutka was born in Kaposvar, Hungary in 1925. A valedictorian of her high school class, Judith planned to write poetry and study at the Sorbonne until her dreams were crushed by the Nazi occupation. In June 1944 she was transported to Auschwitz. She was a slave laborer in an underground munitions factory in Hessisch Lichtenau, Germany.
After being liberated by American troops in 1945, Jutka met and married Irving Isaacson and moved back to the United States with him.
In 1960, Jutka began to watch mathematics lessons broadcast on PBS. Her distance learning led her to Bates College, where she received a B.A. in mathematics in 1965.
Jutka taught mathematics at Lewiston High School and then, at Bates College, where she became the first computer science teacher. In 1969 she earned a Masters in Mathematics, one of the very first women to earn a Bowdoin degree. In 1975, she became Dean of Women at Bates College and then Bates' first Dean of Students. As dean, Isaacson fought fearlessly for women students' right to a fully equal education. The college later recognized her efforts on behalf of women when awarding her an honorary degree.
After speaking about the holocaust at schools and community groups throughout Maine. Judith wrote her memoir, Seed of Sarah, which has been hailed as a triumph of elegant and powerful storytelling.
Isaacson served as on the Bowdoin College Board of Overseers from 1984-1996 and numerous other local boards. Colby College and the University of New England also awarded her honorary degrees that recognized her accomplishments and highlighted her extraordinary optimism even after suffering profound loss and unspeakable horror. In 2004 she was inducted into the Maine Women's Hall of Fame.
Irving Isaacson, lawyer, soldier, entrepreneur, philanthropist and spy, son of Peter and Dorothy Day Isaacson, graduated from Lewiston High School in 1932, from Bates College in 1936, and Harvard Law School in 1939.
Irving practiced law from 1939 to 1940 but enlisted as a private in the National Guard before the U.S. had a draft. He was swiftly drawn into Officer Candidate School, Class No. 11. He was trained as a communications officer and posted to England as a replacement officer for projected D-Day casualties. He left the service as a major. Unexpectedly, he got orders, which he assumed were in error, to report to the English headquarters of the OSS, the wartime predecessor of the CIA. He was commando trained to parachute behind enemy lines, promoted to captain and sent to Holland, where he helped support the Dutch resistance.
---
Dr. Bernard Lown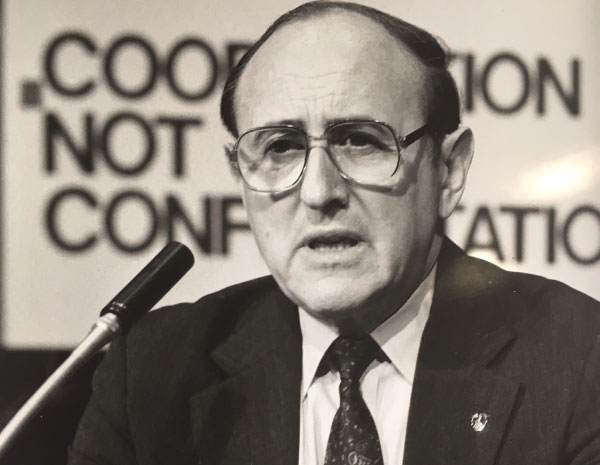 Dr. Bernard Lown, 1985 recipient of the Nobel Peace Prize on behalf of the International Physicians for the Prevention of Nuclear War, an organization which he co-founded with Soviet cardiologist Yevgeny Chazov, has effected major advancements in medical technology on an international scale throughout his medical career. Dr. Lown is the original developer of the direct-current defibrillator (for cardiac resuscitation) and the cardioverter (for correcting rapid disordered heart rhythms) and he introduced a new use for the drug lidocaine to control heartbeat disturbances. Dr. Lown has focused on two major medical challenges throughout his career: the problem of sudden cardiac death, which claims nearly 500,000 lives annually in the USA and the role of psychological stress on the cardiovascular system. In 2008, Governor John Baldacci signed into law an act renaming South Bridge which connects Lewiston and Auburn to The Bernard Lown Peace Bridge.
Born to a Jewish family in Lithuania, the son of a distinguished business man , Dr. Lown immigrated with his family to the United States at the age of 14. He graduated summa cum laude from the University of Maine and received an M.D. from Johns Hopkins University School of Medicine in 1945. Dr. Lown is Professor of Cardiology Emeritus at the Harvard T.H. Chan School of Public Health and Senior Physician Emeritus at the Brigham and Women's Hospital. He is the founder of the Lown Cardiovascular Center and Lown Cardiovascular Research Foundation. He recently founded the Lown Institute, which aims to reform both the health care system and society.
Dr. Lown has been a principal and leader of Physicians for Social Responsibility, the Committee of Responsibility for War Injured Vietnamese Children, and International Physicians for the Prevention of Nuclear War. He has received 24 honorary degrees including five from the state of Maine.
Dr. Lown currently resides in Massachusetts with his wife Louise. He will
be represented here today by his daughter Anne Lown and her husband Warren Green as well as by his son Fred Lown and his wife Barbara, who will be accepting the award.
---
Philip Lown
Philip Lown was born in Lithuania in 1890, the son of a Lubavitcher Hasid and an equally pious mother. He arrived in the U.S. at age 17, and although penniless, he worked his way through high school while learning English. He went on to the University of Maine where he received a chemical engineering degree. While at the U. of M., he helped organize the Menorah Society and start the Hillel Foundation. He then spent several years working as a chemist in Rhode Island. In 1935, he purchased a shoe factory in Lewiston and moved there with his wife Anne (Rubin) and their daughters, Dorothy and Louise.
Philip Lown and Israel Bernstein formed the Maine Jewish Council and established UJA appeal committees throughout the State. He served as honorary president of the American Association of Jewish Education (AAJE) and established Camp Lown in Oakland, Maine, where thousands of Jewish children from New England and New York enjoyed a rich camping experience during its 30+ year existence. In his role as honorary president of the AAJE, he worked to enrich the Jewish experience and provide knowledge to young Jews.
Mr. Lown served as trustee at Brandeis University, where he launched and endowed the Philip W. Lown School of Near Eastern and Judaic Studies. He served as trustee, president, and Board Chair to the Hebrew College in Boston, and was the College's first recipient of the Medallion for Leadership in Jewish Education. His work in Israel included funding of the Lown Community Center, the Library of Education of Hebrew University, and a Hadassah program.
Mr. Lown was also actively engaged with helping survivors of the Holocaust reach Palestine, and in the establishment and defense of the State of Israel during the War of Independence. He was a co-founder of State of Israel Bonds, and he served as Treasurer of the B'nai B'rith Hillel Commission and received the Jewish Theological Seminary of America's medal for distinguished contribution to Jewish education.
---
The Minsky Family
Myer and Bess, Leonard and Renee, and Norman
Myer Minsky
Bess Minsky
Renee and Leonard Minsky
Norman Minsky
Myer Minsky, the son of and grandson of ordained rabbis, was born in Kreva, Russia in 1888. He emigrated to Boston in 1904 and then to Bangor. Following service in WW1, he opened the National Confectionary Co. which he ran until his death. Myer organized the first Zionist group in Bangor and later the Sons & Daughters of Zion. He became a leader in the Zionist movement within New England and served on several national committees. He was also prominent in bringing Jewish National Fund activity to Bangor, (an effort that continues for the last 25 years under the leadership of his son Norman), the Jewish Relief Fund and B'nai Brith, of which he was a founder. He was a key member of the group that established the Bangor Jewish Community Center. In addition, his wife Bess held local and New England leadership positions with Hadassah and was a founder of the Congregation Beth Israel Sisterhood.
His sons, Leonard and Norman, continued the Minsky family contributions to community and Jewish life in the Bangor region.
Following graduation from the University of Maine, where he was President of Hillel, Leonard immediately joined National Confectionary, assuming leadership of the paper products division, which emerged as a stand-alone entity-Superior Paper. That business became a state-wide enterprise under Leonard's leadership. In his business career, Leonard served as President of the Maine State Chamber of Commerce, was a founding director of Merrill Merchants Bank and was a recipient of the Bangor Chamber of Commerce's Dowd award.
He is an active alumnus of the University of Maine. He was Chairman of the Patron of the Arts for over 30 years and he and his wife Renee, have been the recipients of numerous awards and recognition. Leonard is a past president of the Jewish Community Council and past treasure of Jewish Community Endowment Associates. The Minskys are members of Congregation Beth Israel.
Leonard and Renee's philanthropy extends to a number of Jewish and civic organizations. They have endowed funds that support NGOs in Israel and art programs in public schools from the primary grades to the university level. Major gifts that bear their name are located at the University of Maine, Eastern Maine Medical center and the Bangor Public library.
Norman Minsky earned his undergraduate and law degrees from Boston University.
A member of the Gross, Minsky, Mogul law firm, he also has a long history of professional, political, community and philanthropic involvement. Norman served two terms on the City of Bangor Planning Board and two years as Chairman; two terms on the Bangor City Council, one year as Mayor; and two terms in the Maine House of Representatives. He was president and a long-standing board member of each of the Bangor Public Library, Bangor Symphony Orchestra, Jewish Community Endowment Associates and Counseling Center as well as an original member of both the Baxter State Park Advisory Board and the Collins Center for the Arts Advisory Board. He was also a founding board member of Merrill Merchants Bank .
Professionally, he is a member and was president of the Penobscot Bar Association; and is a member and was Chair of the Continuing Legal Education Committee of the Maine State Bar Association.
Norman is an honorary alumnus of the University of Maine, is responsible for the establishment of the Judaic Studies program at the University of Maine. He is a member of Congregation Beth Israel, served as its President for twelve years and established the shul's endowment fund during his tenure.
---
The Osher Family

Marion and Herb Sandler, Alfred and Suzi, Bernard and Barbro, and Harold and Peggy
Bernard (and Barbro Sachs-) Osher
Marion Osher (and Herb) Sandler
Marion Osher (and Herb) Sandler
Marion graduated Phi Beta Kappa from Wellesley in 1952 and earned an MBA from NYU where she was the first woman to win the school's Money Marketeers Marcus Nadler Award for attaining the highest scholastic ranking in banking and finance. She went to work for a firm as an executive and one of only two women in professional jobs on Wall Street at the time. She later became one of the first women CEOs of a Fortune 500 company (Gold West Financial) and the longest serving.
Marion and Herb acquired significant wealth and exhibited great philanthropy. They committed to giving away all of their wealth, and participated in the Giving Pledge initiative organized by Warren Buffett and Bill and Melinda Gates. They also started the Sandler Foundation in 1991 which has contributed more than $550 million to various causes.
Bernard (and Barbro Sachs-) Osher
Bernard spent his early years in Southern Maine running a large hardware store as well as Palace Playland in Old Orchard Beach. He moved to California and became a founding director of World Savings which merged with the Wachovia Corporation.
Bernard is an avid art collector and purchased the Butterfield and Butterfield auction house which he ultimately sold to eBay.
Bernard is known as the "quiet philanthropist" and has given in the vicinity of one billion dollars to various arts, educational, and social services. He has funded over 120 Osher Lifelong Learning Institutes and has been financially very generous to causes in Maine. He has earned the designation as The Chronicle of Philanthropy's third most generous donor in America.
Harold and Peggy Osher
Harold is a cardiologist and lives in Maine full time. He and Peggy ( who passed away earlier this year) created The Osher Map Library and Smith Center for Cartographic Education in 1994 housed at the University of Southern Maine. Harold's love for maps traces to his childhood. The Library contains 300,000 maps, among other related items.
Harold and Peggy have also always supported their beloved Portland Museum of Art, which was Peggy's "home away from home" as a board member for over 40 years. They proudly donated their collection of Winslow Homer graphics to the museum.
Mark Bessire, museum director, said it's hard to imagine the cultural landscape of Portland without the Osher family: "Peggy and Dr. Osher are the quintessential quiet leaders that our community reveres: They lead by example. They inspire us all to weave lives that connect our passions with practicality and results. Their vision of the museum has always been tied to their aspirations for our community and their love of Winslow Homer. Like Homer, they are the DNA of the PMA."
Alfred and Dorothy Suzi Osher
Dr Alfred Osher, who passed away in 1999, was an oral surgeon and orthodontist who practiced in Biddeford. His wife Suzi currently lives in Scarborough, Me. Their foundation the Alfred and Dorothy Suzi Osher Foundation, has supported many non profits over the years, and was the lead donor for the new JCA of Southern Maine, which would not have been built without their support.
Suzi and Alfred came to recognize the importance of comprehensive healthcare services for the elderly. As a healthcare provider himself – Alfred was the first board-certified orthodontist in the state of Maine – Dr. Osher was always known for his compassion and cheerfulness. Nicknamed "Uncle Al, the kiddie's pal," he went out of his way to make sure his patients had a positive experience. This spirit of compassion was mirrored by Suzi, an active community volunteer and philanthropist for such organizations as Maine Medical Center, the YMCA, and various Jewish causes. Suzi has always been a strong supporter of efforts to improve healthcare in our community, with a particular interest in programs that benefit nurses. With their close connection to Maine Medical Center and MMC's commitment to geriatric care, after Alfred's passing in 1999, Suzi decided to create two endowed funds at the Medical Center in Alfred's memory. Both support specialized educational training and professional development for those who care for the elderly – physicians and nurses alike.
---
Roxanne Quimby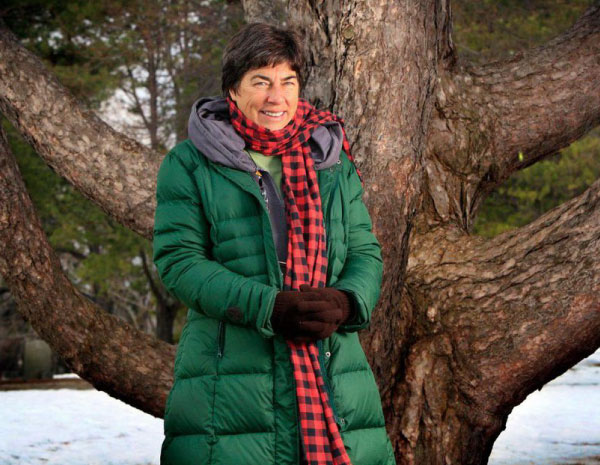 Roxanne Quimby is an artist, conservationist, and businesswoman. She was born and raised in Cambridge, Massachusetts, a daughter of an engineer and a homemaker. She attended the San Francisco Art Institute, where she was influenced by "back to the land" homesteading ideas. In 1975, she moved to Maine living in a small cabin in the Miane woods, raising her children in a very rustic environment . From humble beginnings selling naturally made candles at fairs, her fledging company with partner Burt Shavitz, began making personal care products and thirty years later, after selling her company ( Burt's Bees ) to Clorox. Roxanne used the proceeds to support her love of Judaism and the State of Maine. She was a major contributor to the new Chabad House in Portland.
In 2004, Roxanne founded the Quimby Family Foundation, the mission for which is "to grow human wholeness by fostering stronger relationships between people and nature." For several years, the Quimby Family Foundation made grants to art and environmental organizations. In late 2016, the Roxanne Quimby Foundation was created, which focuses on growing human wholeness in Maine.
During 2016, Quimby purchased over 120,000 acres of Maine forest, 87,000 acres of which she transferred to the U.S. Department of the Interior. This transfer was a prelude to the establishment of a national monument. The Katahdin Woods and Waters National Monument was established on August 24, 2016, the day prior to the 100th anniversary of the National Park Service. She also purchased the 113-acre Ocean Wood Campground with the hope that the grounds will once again take their place among the many lovely landscapes and recreational opportunities of the Schoodic Peninsula.
Roxanne lives today in Portland and in Schoodic and is a major philanthropist and active with many charities. A biography of her life titled Queen Bee, was written and published in 2015 by author Phyliss Austin. A quote from the epilogue of Austin's book summarizes what is important to her: "Roxanne Quimby is a unique presence in the north woods. As a former back-to-the-lander, she knows from experience how vital nature can be in people's lives. As a businesswoman, she knows what jobs mean to communities. As an artist, she is stirred by the beauty of the northern forest. As a Thoreau acolyte, she wants to pay her dues to nature for having made her money manufacturing consumer goods."
---
Jack Spiegel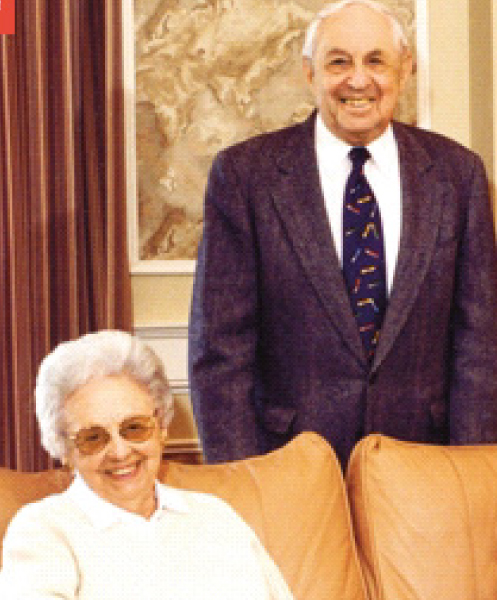 Jack Spiegel was a devoted leader of Judaism and an ecologist, and had a great entrepreneurial spirit. He and his wife founded Quoddy Moccasins in Portland in 1947. By the late 1960s the firm had gown so large that Jack built a second distribution center on Western Avenue in South Portland. He also developed the site for the Maine Mall.
Jack had a life-long passion for preserving the Maine land and forest. He acquired a 150 acre lot at Bradbury Mountain and later donated it to the state. He later bought an 1100 acre parcel in Raymond known as Morgan Meadow, nurtured the land, and later donated it to the state as well.
Jack and Anne became founding members of Temple Beth El in 1948 where he was active on the board of directors and served on many committees. He also served on the board of the Cedar's Nursing Home.
He helped start the first Goodwill store in the Portland area. He established a scholarship award under the auspices of the Maine Holocaust Foundation. He and Anne established a fund through the Maine Community Foundation to support causes they cared about.