THE 2021 MAINE JEWISH MUSEUM VIRTUAL ART AUCTION IS OVER AND WAS INCREDIBLY SUCCESSFUL!
Thank you so much to everyone who bid on a piece of art (and a special thank you to those who won a piece), and to all the artists who helped support the auction with their work, and finally to Rob and Annette Elowitch , who curated the auction, Nancy Davidson who leant her expertise throughout the process, and to Juliet Karelson who made it all come to life on Better World! The Maine Jewish Museum is so appreciative of all your efforts, expertise and generosity!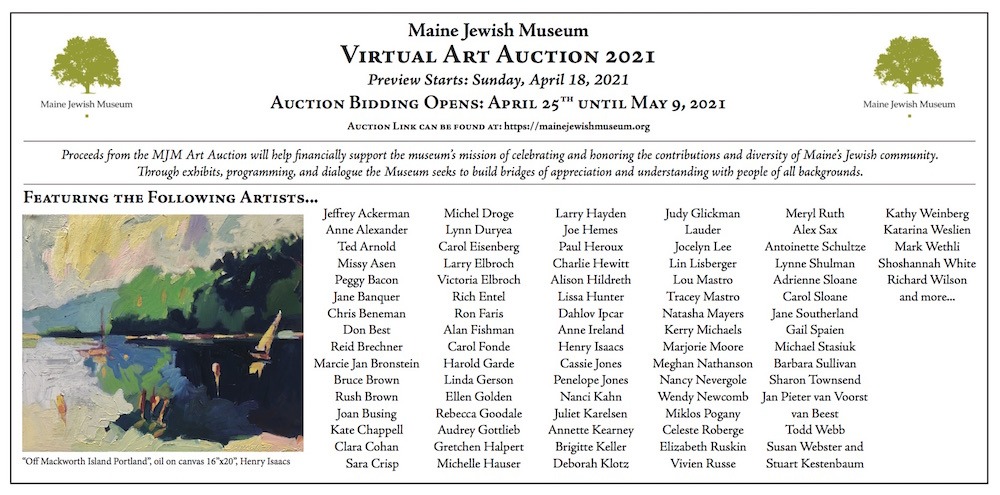 Auction ends tonight May 9th at 8pm!
Get your bids in before its too late!
Auction Bidding Opens: April 25th until May 9th
Please join us for The Maine Jewish Museum's first ever online art auction generously curated by Annette and Rob Elowitch. Proceeds from the MJM Art Auction will help financially support the museum's mission of celebrating and honoring the contributions and diversity of Maine's Jewish community. Through exhibits, programming, and dialogue the Museum seeks to build bridges of appreciation and understanding with people of all backgrounds.
In order to bid (starting April 25th after the preview period ends), you will need to create an account on the Better World auction website (https://mainejewishmuseum.betterworld.org)
where it says LOGIN or Create an Account. If you try to bid on an item without an account it will ask you to first create an account. Once you've created an account, you won't need to login again. If someone outbids you, you will get an email telling you so and can counter the bid if you want.
FYI
All sales will be charged a 5.5% Maine sales tax.
Shipping expenses are the responsibility of the buyer.
Shipping details and arrangements will be worked out at the end of the auction.
Tipping Betterworld is OPTIONAL. Please read the small print and if there's an inadvertent charge to your account contact us and we will remedy it.
Preview begins April 18th and auction runs for two weeks from April 25th until May 9th.
The MJM Art Auction will feature the following artists: Jeffrey Ackerman, Anne Alexander, Ted Arnold, Missy Asen, Peggy Bacon, Jane Banquer, Chris Beneman, Don Best, Reid Brechner, Marcie Jan Bronstein, Bruce Brown, Rush Brown, Joan Busing, Kate Chappell, Clara Cohan, Sara Crisp, Michel Droge, Lynn Duryea, Carol Eisenberg, Larry Elbroch, Victoria Elbroch, Rich Entel, Ron Faris, Alan Fishman, Carol Fonde, Harold Garde, Linda Gerson, Ellen Golden, Rebecca Goodale, Audrey Gottlieb, Gretchen Halpert, Michelle Hauser, Larry Hayden, Joe Hemes, Paul Heroux, Charlie Hewitt, Alison Hildreth, Lissa Hunter, Dahlov Ipcar, Anne Ireland, Henry Isaacs, Cassie Jones, Penelope Jones, Nanci Kahn, Juliet Karelsen, Annette Kearney, Brigitte Keller, Deborah Klotz, Noah Krell, Judy Glickman Lauder, Jocelyn Lee, Lin Lisberger, Lou Mastro, Tracey Mastro, Natasha Mayers, Kerry Michaels, Marjorie Moore, Meghan Nathanson, Nancy Nevergole, Wendy Newcomb, Miklos Pogany, Celeste Roberge, Elizabeth Ruskin, Vivien Russe, Meryl Ruth, Alex Sax, Antoinette Schultze, Lynne Shulman. Adrienne Sloane, Carol Sloane, Jane Southerland , Gail Spaien, Michael Stasiuk, Barbara Sullivan, Sharon Townsend, Jan Pieter van Voorst van Beest, Todd Webb, Susan Webster and Stuart Kestenbaum, Kathy Weinberg, Katarina Weslien, Mark Wethli, Shoshannah White, Richard Wilson, and more…