---
Announcing the 2021-2022
Maine Jewish Museum
ANNUAL APPEAL
IN HONOR OF NANCY'S DAVIDSON'S 10TH ANNIVERSARY AS CURATOR IN RESIDENCE
---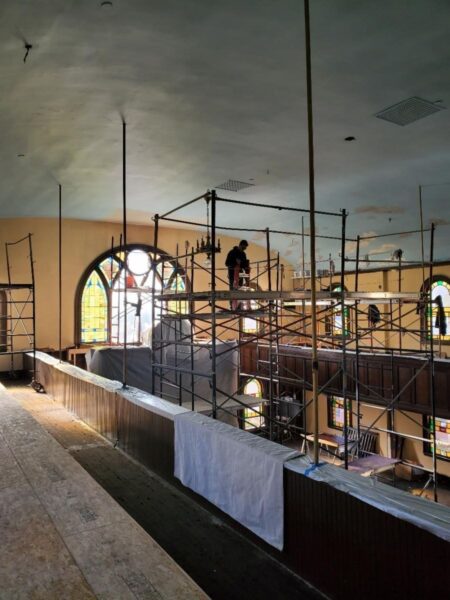 Since our last Annual Appeal in 2019, we have gone through extraordinary changes both internally and externally.
While all of us have dealt with the ongoing challenges of COVID-19, two months into the pandemic the Museum had a fire which caused virtually every wall, floor and ceiling in the building to be removed. We had to totally renovate the building foot by foot from the studs outward.
Thanks to great community support and an excellent insurance company, we re-opened the Museum 10 months later in January of this year in even better condition than it was before the fire. We are so grateful for all the support and good wishes.
Now, as we look forward to a time without COVID, we are planning to hire a new Executive Director! We hope to greatly expand our cultural and historical exhibits in the coming year while continuing to provide the amazing art exhibits for which we have become well known.
One constant the past 10 years has been the excellent work of our Curator- In- Residence, Nancy Davidson, who will celebrate her 10th anniversary as Curator next month! Nancy has put the Museum on the arts map both locally and regionally. Nancy has the energy, creativity and good cheer of the vivacious, tireless, hard-working professional that she is and whom we all cherish.
In recognition of all that she has done, this Annual Appeal is being conducted in her honor. Additionally, an anonymous donor has agreed to fully match the first $15,000 of contributions to the Annual Appeal, which means that your gift will be matched dollar for dollar up to $15,000!
We are so grateful to you, our friends, for your steadfast support over these past 13 years! The Maine Jewish Museum is a unique institution, a link between both past and contemporary Jewish life.
We are a vibrant resource to the community: the Spiegel Art Gallery offers the best of art world luminaries, we a community center where all are welcome, a restored building holding a rich history of Maine's Jewish past, an educational facility utilized by school groups, individuals and organizations, a Portland attraction receiving visitors from all over the world, not to mention a location for lectures, music, and live theatre.
In the coming year, we plan to continue our mission of fostering understanding and dialogue between diverse groups as well as expand our historical exhibitions and programming in a way that is beneficial to the community at large.
In the service of accomplishing these goals; hiring our new Executive Director and to honor Nancy Davidson, we humbly ask that you contribute this holiday season!
Thank you so much, Steve Brinn
On Behalf of the Board of Directors of The Maine Jewish Museum
---
Donations can be be completed online with a PayPal account or any major credit card
You may also send a check made out to Maine Jewish Museum and mailing it to us at 267 Congress St. Portland ME 04101
---
Buy a Brick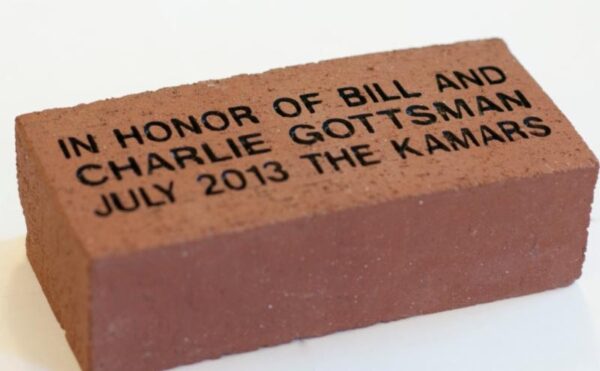 Our brick walkway, consisting of 4,000 bricks, leads from the street through our peaceful garden to the entrance of the building. The Maine Jewish Museum invites you to honor or remember special people in your life by inscribing their name(s) on one or more commemorative bricks. Funds raised will help enable the Museum to complete the final phase of renovations and make improvements that will benefit the entire community.
Dedicating a brick only costs $118 each!
You may order as many bricks as you want at this Special Price. Come to the Museum to talk in person about donating a brick, or fill out the form below to have someone contact you about your donation. Checks can be made out to: Maine Jewish Museum 276 Congress St. Portland, ME 04101. Please email Steve Brinn at for more information.
Help Preserve the pathway to Maine's Jewish History, Culture, and Art for future generations by purchasing a brick for our entry walkway.
Leave a lasting legacy
honor friends or family members
memorialize someone special
celebrate a special event
Your gift of one or more engraved bricks will help the museum meet many needs, including maintenance and accessibility of the museum's historic structure.
This is a great way to make a tax-deductible donation to the Museum AND preserve your own legacy as a museum supporter for years to come.
Place your order today! 3 lines up to 21 letters and spaces per line for only $118.