Maine Jewish Museum to Reopen to the Public
Exhibition Opening Scheduled for Thursday, February 4, 2021

We are happy to announce the Maine Jewish Museum is opening after months of renovation due to a fire this past Spring. We are also celebrating the 100th anniversary of the creation of Etz Chaim Synagogue which houses the Maine Jewish Museum. "Mixing It Up" will be our first exhibition in the newly renovated space. This exhibition of 10 artists will be held in the Spiegel Gallery and Fineberg Community Room. We will also have a photography exhibit by Jan Pieter van Voorst van Beest, on the third floor in the newly dedicated Jody S. Sataloff Art and History Pavilion.
Welcome to the Maine Jewish Museum, located in Portland's East End neighborhood. The museum is housed within the restored Etz Chaim Synagogue, a turn-of-the-century house of worship. The museum has been the venue for contemporary art exhibitions for the past eight years. These exhibitions, which change every six weeks, feature established, Jewish-connected, and Maine-connected artists.
Exhibiting Maine's Jewish artists links our Jewish artists to Maine's rich artistic history and highlights their place in Maine's exciting contemporary art scene which includes but is not at all limited to the following: Winslow Homer, the Monhegan Island and Ogunquit artist colonies, Colby College Museum of Art, Haystack Mountain on Deer Isle, Maine Media Workshops in Rockport, Skowhegan School of Painting, and the Portland Museum of Art. We are thrilled to display the artists chosen by Curator Nancy Davidson and Photography Curator Nanci Kahn and share it with you!
All the works exhibited are for sale. Whether you live a few blocks away or across the county, take home a piece of Maine's Jewish contemporary art with you.
The museum also houses Jack Montgomery's photo exhibit of Holocaust survivors who settled in Maine as well as a permanent exhibition of Maine Jewish History.
---
Mixing It Up
Exhibition curated by Nancy Davidson, Resident Curator and Elizabeth Ruskin, Ceramicist and Art Collector
Exhibition Opening Scheduled for Thursday, February 4, 2021 12pm-4pm
Located in the Spiegel Gallery and Fineberg Family Community Room –
The exhibition features a selection of work from the Following Artists:
Sondra Bogdonoff – Weavings
Reid Brechner – Ceramic Paintings
Linda Gerson – Paintings
Joe Hemes – Illuminated Sculptures
Jamie Johnston – Wood Sculptures
Lin Lisberger – Wood Sculptures
Elizabeth Ruskin – Ceramic Sculptures
Meryl Ruth – Teapots
Adrienne Sloane – Fiber
Gail Spaien – Paintings
Winter Hours: Sundays & Mondays 12pm-4pm Thursdays & Fridays 12pm-4pm
Mask required.
Please maintain 6 ft distance from one another.
---
Rituals – Jan Pieter van Voorst van Beest, Photography
Located in the newly dedicated Jody S. Sataloff Art and History Pavilion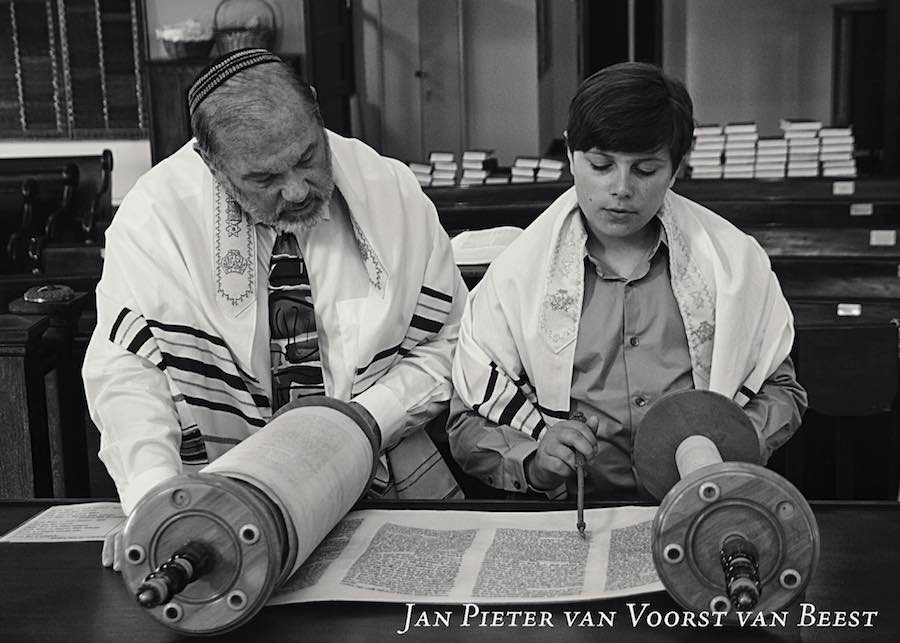 "My great-great-great grandmother Rachel Mendez De Leon's (1834-1903) Portuguese ancestors moved to Amsterdam during the Sephardic Immigration in the 17th century because of the inquisition. That does not make me Jewish but my two grandsons are. I feel privileged to have been able to witness them turn from babies into real (wonderful) human beings. Seeing them grow up in the Jewish faith put me in a position as an outside observer. As a photographer, I am also an outsider looking in. I am a bystander documenting the world around me. These ceremonies and rituals I witnessed and photographed were strange and new to me. But they were also loving, warm and inviting. It has been a privilege to document them."
Jan Pieter van Voorst van Beest is a Fine Arts photographer living in Pownal Maine. He studied photography at the Portland School of Art, and at the Maine Photographic Workshops with Joyce Tenneson and Arnold Newman. The majority of his work can be classified as street/documentary and portrait photography. His work has been published in a variety of magazines and books and has been exhibited in the U.S, the Netherlands, Russia, The Portland Museum of Art, The Bowdoin College Museum, the University of Southern Maine and the Art Gallery at the University of New England.
Winter Hours: Sundays & Mondays 12pm-4pm Thursdays & Fridays 12pm-4pm
Mask required.
Please maintain 6 ft distance from one another.
---
Mildred Bachrach – "Where My Mind Is"
An Artist's Response to Pandemic 2020
Artist Statement
I employ art as a healing mechanism. Art allows people to understand that when they experience the phenomena of psychic trauma, that they are not alone. Psychic trauma is the universal response of humans to their impending death or the death of a loved one.
Art focused on traumatic experiences can become a catalyst for healing. After the acute stage has passed, humans bury pain deep in the psyche where it remains unhealed like a cut that becomes infected from within. Psychic pain, like an infection, can erupt at any time. Art provides a conduit to release and heal the phenomena of psychic pain, keeping it from festering under the surface.
The Stages
Facing death or the death of a loved one causes psychic trauma. This is a universal reaction for all people from the age of about seven on. Seven is when children begin to understand the concept of death. After World War Two, psychiatrists studied holocaust survivors and found that they reported specific experiences (phenomena) which impacted them.
First, the mind shuts down and everything appears white, blank, detached and floating. Second, is acute disorganization. The mind experiences fragmentation of memories, fears, mixed emotions of mundane issues from everyday life. Third, the disorganization decreases in time, but vivid memories reoccur, which can be visual, auditory, and visceral sensory.
Fracturing
The second stage of psychic trauma, acute disorganization, is most evident in the loss or potential loss of a loved one. It is like living in a fractured world. One tries to get back to some type of normalcy, but there is no going back. Survivors have to create a "new normal", which can take a lifetime to achieve. To achieve a "new normal" one must survive being fractured while handling the mundane chores of everyday life, and one's professional life in order to see what the future will be like.
Fracturing of Objects
Fracturing of objects that represent memories, dreams, and nightmares are shown in my current work on the pandemic. Fracturing is seen clinically in adults and children who have experienced sudden death of a loved one, received a diagnosis of a fatal disease for themselves or their child, or have lived with a chronic, but potentially fatal disease. People are embarrassed by it, dealing with the fracturing depresses them. It is a continuous burden that the mind works on to put the loss into perspective. By using fracturing in my work, I hope to show people that fracturing is normal, a part of the process that the mind goes through to survive and to heal. At night when we dream, our mind works to put things together. Around 3 a.m. when the world is silent, quiet, and before dawn, if one wake up from a "bad dream", our mind is super active in thinking about all of the scary issues that are going on.
My studio is full of the images that you see. I am surrounded by the reality of the world outside. At this time to be able to function I am starting a new series called "Hope, Faith and Charity". This is to keep me sane in a time of insanity. Be safe, be kind, and do your best. Before becoming a full time contemporary artist I was a clinical specialist in nursing in a variety of roles, including as a Public Health Nurse for the Maine CDC.I have worked with MRSA, active TB, and other infections. This is a new pathogen that scares the SH-T out of me. I am not sure why people won't believe – but until they do COVID 19's defeat will be long and cost many more lives.
Milly Bachrach RN, MN, MFA
---
Mildred K. Bachrach – "Faith", "Hope" and "Charity"
An Addendum to "An Artist Response to the Pandemic"
"Faith"
Mildred Bachrach
serigraph, manipulated photos, acrylic, medium and ink on wooden panel: 32×48

I remember the first time I had to take a family to the morgue. The parents were viewing the body their deceased adult daughter. When I pulled back the sheet the look of calm on the deceased was if she saw eternity. To me that was "Faith".
"Hope"
Mildred Bachrach;
mixed media ( acrylic, manipulated photos, ink, medi, and string; 32×48.

"Hope" rises from the forces that try to pull mankind down. We will go through wars, climate change, pandemics and civil unrest. If we are to survive man/womankind will have to find the strength to continue on. We will have to rise above the forces pulling it down. There is no other choice if we are to survive.
"Charity"
Mildred Bachrach

The concept of charity is that one gives expecting nothing tangible back in return. One may give from the heart. From guilt, because of religious beliefs or due to community pressure. At the end it doesn't matter what the motivation is, To live on a society where there are those without the basics for survival. No food. no adequate shelter, no medical care,
no clothes, etc. Charity is what helps the community to survive.