Trio Sefardi
Thursday – November 9 2023 -7 – 8:30 pm
Mayo Street Arts
"La Nona Kanta" with Trio Sefardi
Saturday – November 11 2023 -7 – 8:15 pm
Maine Jewish Museum
Trio Sefardi, a Northern Virginia-based ensemble, performs traditional songs of the Sephardim, the descendants of Jews exiled from Spain in 1492. Their repertoire draws on the song traditions of Sephardic communities from the former Yugoslavia, Greece, Bulgaria, Turkey, and North Africa, with a special emphasis on traditional and original songs they learned from their mentor, Bosnian-born singer/composer and 2002 National Heritage awardee Flory Jagoda.
And now, for the first time, Trio Sefardi will be performing in Portland in partnership with Mayo Street Arts and MJM!
On Thursday, November 9, the Trio will be at Mayo Street singing songs in Judeo-Espanyol (commonly known as Ladino) that have been passed through the generations, as well as newer songs composed by Flory that celebrate the memory of now-lost communities of the Balkans. And on Saturday, November 11, the Trio will perform "La Nona Kanta," a multimedia program featuring documentary footage of Flory — who escaped the Nazis in 1941 and spent her life in the U.S. helping to preserve her musical heritage — interspersed with a live performance of her songs, pictures from the Atarac family archives, animation, and translations of Flory's songs, which were composed in Ladino and Serbo-Croation.
These are two seminal performances via one seminal collaboration — come to one or come to both (but really, come to both — you don't want to miss out on either one of them)!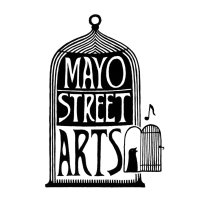 Trio Sefardi | Thursday Nov 9, 2023 | 7 PM – 8:30 pm | Mayo Street Arts
Get Tickets
"La Nona Kanta" with Trio Sefardi | Saturday Nov 11 2023 | 7 PM – 8:15 pm | Maine Jewish Museum
Get Tickets